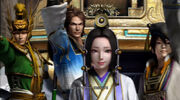 The Coalition (連合軍, rengō-gun), also known as the Resistance Army, is a band of warriors who joined together to fight against the Hydra in Warriors Orochi 3. The group is initially formed by Sima Zhao, Hanbei, and Ma Chao under the guidance of Kaguya. They return to the past for the purpose of preventing the deaths of other warriors and to weaken the Demon Army.
As the game's story progresses, the future Coalition eventually grows to include nearly every warrior involved in the dimensional realm's conflict. When the army reaches its full potential, the group's founding members are appointed as the leaders for the final battle.
Ultimate says their combined efforts slew Hydra and the group remains relatively intact. Their trust in one another is tested when Tamamo creates doubles of their current members to wreck havoc. Once the deception is cleared by the mystics, they eventually repay the mystics by traveling back to the past to restore the Divine Mirror. With the true villainous mastermind clear to them, they band together to defeat and seal Kyūbi.
Groups
[
]
Leaders
[
]
Warlords
[
]
Mystics
[
]
Demons
[
]
Sima Zhao's Regiment
[
]
Ma Chao's Regiment
[
]
Hanbei's Regiment
[
]
Other Members
[
]
NPC Members
[
]
Zhang Ming
Ma Xiu
Sima You
Cheng Ji
Cheng Cui
Wang Chen
Wang Tao
Qui Ben
Shi Bao
Hu Zun
Huan Jia
Iemasa Hachisuka
Tsumeki Ikeda
Sima Wang
Shigekore Kimura
Shigeharu Kuwayana
Motomori Naito
Shigekata Togo
Shigeie Uchida
Hidemori Sengoku
Kotarocho Teramusa
Tang Zi
Quan Jing
Yue Chen
Tsurasada Totoki
Shigenaga Honjo
Nobutsune Sanada
Yoshimasa Oika
Morishige Tsuchihashi
Ujiyoshi Horinouchi
Motoyasu Mori
Yoshihisa Amago
Fan Jian
Bao Su
Hu Fen
Chikanori Suibara
Zhang Qiu
Haruie Kakizaki
Dong Heng
Lu Jian
Li Hui
Chen Qian
Ma Long
Mitsuharu Fuwa
Nobuchika Chōsokabe
Hidetsune Tsukushi
Enemies
[
]
Opponents
[
]