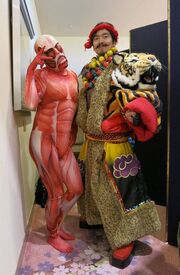 Kenichi Ogasawara (小笠原 賢一, Ogasawara Ken'ichi, born July 23) is a video game programmer, producer, and director who joined Koei in 1993. He is currently the Managing Executive Officer for the Omega Force brand in the company's Entertainment Division. He was managing officer for the Software Division Deputy Division and the director of its third software division.
Ogasawara was initially interested in baseball when he was younger, but he had a passing interest in video games while visiting his friends' homes during middle school. He did not become invested in video games until he was living by himself during his college years. Ogasawara was introduced to Nobunaga no Yabou Sengoku Gunyuuden (the third Nobunaga's Ambition title) and played it rigorously during his free time.
He remembers working hard at his part-time job just to buy a PC to keep up with the series. He became interested in Romance of the Three Kingdoms and KOEI's other historical simulations during this period. When he first purchased Bushou Fuunroku (fourth Nobunaga's Ambition), it would not start for him so he contacted KOEI's user support. Ogasawara was impressed by the prompt and competent service he was given, which eventually led to his interest to specialize in computer programming.
His main goal for joining and staying with KOEI was to someday help create a Nobunaga's Ambition title. Interviewers referred to it frequently during his interviews with other projects, which led to their congratulations during Sphere of Influence interviews. His favorite characters are Shingen and Zhao Yun.
Works with Koei
Edit
External Links
Edit