Fire Emblem Warriors: Three Hopes - The Loop
Play Sound
Compiled episode summaries of Koei-Tecmo LIVE!. Notices regarding new episodes and dates are always announced on the Koei-Tecmo Twitter. All listed times are in Japanese Standard Time.
Episode 0
[
]
March 7
Introduction

First pilot episode with a white board behind Katsura and Suzukawa. Shortly after the program began, members from L.A.F.U. (G.Mee, Taisho, Yuuki) were introduced as their guests. The members who were present said they were fans of Koei's games. On a spur of the moment's notice, the members agreed to perform Sunday at Neoromance ♥ Festa ~ Haruka Festival 2012.
Episode 1
[
]
March 23, 20:00
Channel α, Channel β

A green screen is now placed behind the hosts as they introduce topics and pre-recorded videos are broadcast for watching fans. Hosts introduce themselves online to fans, and G.Mee replies that he has been a long time fan of Koei's historical simulation titles (he said he started with Romance of the Three Kingdoms VII). They announced events which happened during the first half of the month before they featured the renewed my GAMECITY service. A costumed Nyabraham Linnyahn also made an appearance.
After their commentary regarding the service, members of Channel β introduced themselves for viewers. Recorded footage of L.A.F.U's live performance at was shown when they covered the topic. Fanservice messages for the ladies watching was performed by Infini members.
Games/Merchandise/Events covered
Episode 2
[
]
April 3, 20:00
Channel β

Yuuki, Taisho, and Ogawa were the hosts for the day. Yosuke Hayashi, Team Ninja producer, appears as a guest to introduce NINJA GAIDEN 3 and tried to make it appeal to the ladies watching. He stated that the staff wanted to create a realistic and different feeling game, one that had the potential to surpass the second game of the franchise. During the character introductions, shout outs to Kenyu Horiuchi and Wakana Yamazaki's roles in Angelique and Samurai Warriors were mentioned. Snippets of the first DLC trailer for the game was shown to conclude the brief segment. Hayashi's voice was extremely hard to hear during his time on the show, so it's hard to comment on his further thoughts regarding the title.
After his brief segment, the hosts announced Neoromance Time! Angelique UFO dolls of the guardians decorated the desk. After the trailer, the characters in Kazahanaki and a rough outline of their stories were introduced. Taishou said he would want to cosplay as Rindou someday, something which the fans earnestly responded that they wanted to see. Recorded footage of Infini's newest performance was shown as well. Bonus photos of the group was shown, a few of which include a gag Hideyoshi, a serious Ryoma, and a rugged Toshizo. One of the Infini members will be appearing in Hyakuman-nin no Corda.
A survey regarding cherry blossoms was done live. Fans were asked if their blooming meant it should be a season for meetings (1) or the season for farewells (2). 72.7% favored 1 so the Infini members performed fanservicey messages themed to the winning vote. Sori and Kan will appear the next show.
Games/Merchandise/Events covered
Episode 3
[
]
April 10, 20:00 (scheduled time); 20:30 (adjusted time)
Channel α

The original broadcast started but concluded in two minutes time to fix audio issues. The official Twitter updated to inform viewers of their technical difficulties and to watch their Nico Nico Live channel for another link.
Before their guest appeared on the show, Katsura introduced real life photos of cities which appear in Daikoukai-jidai Online. He plays it himself and acts as a GM for the MMORPG, saying he plays it to relax. After the videos and products were covered, the newest trailer for Sangokushi 12 was shown before the game's producer, Ken Kitami, appeared to showcase the game. It is the first main installment of the series to feature fully voiced historical events. Kitami commented that he thought it was unfair that only select figures had revised portraits throughout the series, so he pushed to have new portraits for the entire cast in this title.
Kitami had Sun Ce as the warlord for his demonstration. The overall presentation of the game somewhat resembles the one found in the series's ninth title. Unlike the last title, which had players constantly viewing their base of operations in close detail, this game returns to the overhead map seen in older titles within the series. Orders are located at the bottom of the screen. Players can click on each territory to view detailed information of officers held within. Characters hold their own station within the player's city and can be ordered individually by clicking on their portrait. Events can be triggered when a character reports at the player's castle, which is represented by a speech bubble icon.
He made Sun Ce attack Liu Yao to showcase the game's battle system. Units move to the player's command ala real-time strategy style. Strategies and attacks on a base's camp now have miniature cinematics to indicate their activation. Like Nobunaga's Ambition: Rise to Power, each war has its time limit which is indicated by the numbers in the upper left hand corner. A victory screen to compare the army's stats is shown when battles conclude. The lower left icons indicate the ally troops and the state of their activated strategy. Although Kitami said it wasn't something viewers should see, a Mobile Joy feature is in the game.
After the game's presentation, the hosts talked about their favorite figures in the game. Their portraits were shown as they talked. Katsura favored Sun Ce for his boldness and his compassion for his friends and loved ones. Kitami said Zhao Yun since he was a character he used a lot when he first played the Romance of the Three Kingdoms series; afterwards he liked Zhao Yun after reading the novel. He commented that Kou Shibusawa apparently really likes Zhao Yun as well and that's the reason for his handsome image and high stats in the series. Suzukawa said Gan Ning for the bells he wears is something she could relate to (bells being suzu in Japanese and a pun of her name), but she also remarked she prefers old man characters too. G.Mee said he likes Cao Cao, but he really likes Jia Xu since he admired the latter's guts to assassinate Cao Cao. He also had a fun, personal episode of creating characters in the series with his friends regarding Jia Xu.
The survey's results were: Katsura (Sun Ce): 26.3%, Kitami (Zhao Yun): 25.3%, Suzukawa (Gan Ning): 17.9%, and G.Mee (Jia Xu): 30.6%. Viewers who email the program have a chance to win the game's artbook.
Games/Merchandise/Events covered
Shin Sangoku Musou VS - newest trailer for Story Mode and first TV commercial
Ciel nosurge -surge concerto- ~Ushiwareta Hoshi he Sasugu Uta~ - TV commercial shown and plug for completion meeting
Shin Sangoku Musou 6 - upcoming DLC; Diao Chan's original 2 outfit was shown
NINJA GAIDEN 3 - upcoming DLC
Sangokushi 12 - latest trailer and plug for completion meeting
my GAMECITY - contest for the program's official community
Episode 4
[
]
April 17, 20:00
Channel β

Infini members, Sori and Kan, and Kuon appeared in this episode. Kuon apologized for not being in the second episode due to his sudden cold. The hosts touched on the Taishou cosplay idea from the previous episode and even showed Tadayoshi's unmasked portrait for uninformed viewers. They agreed that he looked a lot like Taishou and would be a better fit for him than Rindou. Sori and Kan said they might convince Taishou to change his outfit. A recorded company party and one of the developers' karoke sessions was shown, which included a band performance with Keiko Erikawa, Yosuke Hayashi, Hisashi Koinuma, and six other members. Saya and Infini also sang for those present.
For the new game segment, Takumi Ogawa from the previous episode returned to the show. He said his alias as Takumi may or may not change for future episodes. A short recorded message for viewers from Masaya Takatsuka was played; he mainly talked about his excitement for the series and his thanks for being to perform characters for it.
Neoromance Time! began with an introduction of Kin'iro no Corda. The games have been displayed on their desk since the start of the program. Kan said he has been playing the romance simulations lately and commented that he's really getting into the franchise. When the established cast of Hyakuman-nin no Kin'iro no Corda was introduced, most of the Nico Nico comments were fans raving over their favorite characters as they were introduced. The hosts actively pointed out their comments for Shimizu and Yunoki. A small tidbit for the exclusive character, Shouma Fudoh, was stated for the show.
The game was then played live using its Mobage service. Kan named his protagonist Soriko and they progressed through the opening scene. Like most games in the series, the player can choose which character they wish to practice with first. Practicing with a character boosts the protagonist's stats for a musical theme, levels up the avatar, and increases their affinity with the selected character (in this case, Kan chose Tsuchiura). When their affinity rating reaches max for the avatar's level, the character can be invited watch their musical competition. Competitions are a quick-time event like session similar to the series's third title. A character event can take place for those who win. Other events were mentioned after their short play session. Still illustrations from the social game were shown for the currently romanceable cast, including the holiday themed images for Christmas, Valentine's Day, and White Day.
A new character for the game (Junya Niwa, 丹羽淳也) voiced by Sori was introduced. Although only the rough illustrations were shown, the hosts commented that his character looked a lot like him. He performed a short character quote for viewers as well. A brief rundown of his character was stated: he is a 23 year-old band member who seems cold to his fans. The hosts said more information will be available when the game is updated to include him. Kan said that there needs to be a character with a Kansai accent for the series, which is a character he said he would be willing to do. Interested fans agreed with him on the Nico Nico Live stream and their comments were acknowledged by the hosts.
This survey asked fans their preference for men out of the two choices. Either "a person who never changes his appearance or personality" (1) or "a person who is entirely different than how they appear" (2). 81.7% favored 2 so the Infini members performed fanservicey messages themed to the winning vote. Kuon was asked to do one as well, but he bowed out of the proposition.
Games/Merchandise/Events covered
Sangokushi 12 - recorded footage of the completion meeting
Shin Sangoku Musou VS - release date and guidebook
Ciel nosurge -surge concerto- ~Ushiwareta Hoshi he Sasugu Uta~ - recorded footage of completion meeting and plug for the next episode
Hyakuman-nin no Kin'iro no Corda - including glass marker straps and character song and message CD
Neoromance ♥ Festa ~ Haruka Festival 2012 - banana clips and two flower corsages worn by Eiji Takemoto at the event were presents for lucky viewers at my GAMECITY
Episode 5
[
]
April 24, 20:00
Channel α
The hosts remembered their favorite characters and events from the Three Kingdoms era as a call back to Episode 3. G.Mee remarked that he really got into the genre again and looked up various movies and other works centered on the historical period. Saya came on the show for the first time to introduce new product information for the company. Recorded footage of her performance at the company party for new recruits was played after her introduction to the show. The only downloadable content shown this time was the Okuni episode in Pokémon Plus Nobunaga no Yabou and the Musou Orochi 2 crossover images for Masamune, Keiji, and Nene.
Akira Tsuchiura (director) and Ai Kakuma (Ion) appeared for the Ciel nosurge segment. The director briefly introduced the title to uninformed viewers, stressing that it is a game centering on communication. While the director showed how to play the game, Kakuma insisted that she called Ion for the show. He says that the game was conceptualized about two years ago, before the Vita was presented. Tsuchiura thinks the console allows for a deeper sense of immersion for players through its touch screen and first person presentation. Nico Nico viewers often remarked at how quickly he tapped the screen to skip the game's script, some complaining while others laughed at the sudden video cuts away from the PSV to avoid showing spoilers.
Unlike other playthroughs in the past, Tsuchiura briefly showcased the fairies and the method of unlocking character events. He insists there are many secrets within the game that can be unlocked with its real time system, but he wants players to decide for themselves. At most, Tsuchiura only wants to inform viewers of the world's features. A video recorded message from Cath and Kanon's voice actors was shown as well. They both performed character messages for those watching. Kakuma performed quotes from the game as Nico Nico viewers typed "tap,tap,tap" (as though they were touching Ion). When the quotes edged towards the game's mature rating, Katsura cut her off and asked for her thoughts regarding the game. Both guests hope interested viewers buy the game and enjoy it for themselves.
The trailer for Shin Sangoku Musou VS played to usher Tsuchiura and Kakuma's exit, and Kenichi Ogasawara (producer) appeared to replace them. He said 300,000 people have downloaded the trial version mentioned at the end of the video. After he gave a brief introduction of the title, pre-recorded gameplay footage of the Story Mode was featured. Ogasawara explained that players can switch between with their own character and unique playable characters even in Story Mode. They can do so by touching the corresponding character icons on the 3DS touch screen. The three character team still applies in this mode. Their scheduled Versus Mode tournament was canceled to avoid prolonging the program.
Viewers can win either Ai Kakuma's autograph (3 available) or Sangokushi 12's original soundtrack (3 available).
Games/Merchandise/Events covered
Episode 6
[
]
May 1, 20:00
Channel β
Taishou, Yuuki, and Kuon were the hosts of the show. The program froze nine times during the 80 minute broadcast; waits for the retried recordings in between freezes varied from 5 minutes to 15 minutes. The first three times the program froze the hosts performed humorous poses to re-introduce themselves. The sixth time the video played but there was no sound. To answer the viewers' confusion, the company posted a question mark on the screen rather than the usual company logo. Due to technical difficulties, the majority of the planned program was canceled.
Whilst the program experienced difficulties, Nico Nico Live viewers were given various apologies and thanks for their patience from the company employees. They also wrote that a new live event was going to be announced once their end was repaired. One of the popular guesses for the event's theme was a Kuon Festival. Neoromance fans also chatted about their favorite franchises/characters/merchandise or so on –including multiple requests they had– to pass the time.
The hiccups for the broadcast had fans jokingly blame lurking Thanatos, Erebos (Neo Angelique), a curse, Akram, and/or Onryou (Harukanaru Toki no Naka de). Therefore a flood of comments had viewers pleading for an Aube Hunter or a priestess to purify them pronto. When the question mark screen was put up, viewers wanted Ernst (Angelique) to explain the situation. Realistically fans postulated that difficulties were caused due to the show being scheduled during Golden Week, which is the most likely reason for the troubled recordings. Over 2,000 viewers remained on Nico Nico Live, even when the broadcast was frozen after an hour of waiting.
The new event is Neoromance ♥ Festa 13 which is scheduled to take place on July 28th and 29th. This time characters from Sengoku Musou will appear in it; this makes it the first official stage event in which Neoromance characters mingle and interact with any character from the Warriors franchises. The announcement was quickly announced by Kuon and Taishou held up a whiteboard which had the scribbled information of the event on it. A website was promised to be up before the program crashed again. Information regarding the participants was promised soon after, but the company posted a message five minutes later stating that they would instead have their farewell message. The hosts apologized once more but said they were looking forward to the next episode.
Games/Merchandise/Events covered
none besides event
Episode 7
[
]
May 8, 20:00
Channel α
The show began with Suzukawa and G.Mee sharing photos of what they did during Golden Week. Suzukawa included a photo of one of her performances and said it was a thrilling experience for her. Katsura joked that G.Mee's photo in the tub made him look like Oda Nobunaga and jokingly called him "Milord" while it was up for viewing.
A video recorded report by Taishou and Yuuki was shown in front of a Tsutaya outlet. Their report took place two days before the simultaneous purchase dates for Ciel nosurge and Shin Sangoku Musou VS (April 26th). Both Infini hosts showed off the store's detailed displays for the video games. They also had the manager of the outlet, Sonobe, speak his personal thoughts for both games. He thought both titles offered something new for either the franchise's availability for the console (Shin Sangoku Musou VS) or a player experience (Ciel nosurge). Footage of Saya's recorded performance at the company party was shown again.
The opening movie of the latest expansion, Tierra Americana, was shown before the show's special guests were introduced. They were Tomokazu Takeda, one of the current producers for Daikoku-jidai Online, and Takeshi Atsumi, former producer and current division manager. Katsura immediately thanked Takeda and his team for their hard work since he plays it himself frequently. After they briefly summarized the MMORPG, Takeda offered to play his character online to demonstrate.
Takeda explained city features to viewers and then set sail to show off his ship and game's sea exploration. He tried to show off Zipang (Japan) to viewers. Players who were logged in at the time in the same server excitingly greeted Takeda once he logged in to offer their condolences. He explained that producer meet and greets with players have occurred on a frequent basis throughout the MMORPG's run, and he was pleased by the player feedback they received in-game. So many players were on at once that he couldn't really show off all of the features as he had planned, such as the game's bazaar system. The memorial cup campaign and the new Egyptian areas were briefly mentioned and shown for viewers.
Atsumi followed with a live playthrough of the social game my GAMECITY. Nyabraham Linnyahn appeared on the show as a special guest and waving his hands excitingly at viewers. Atsumi showed off the town building and adventure segments of the title. He also visited the Koei-Tecmo LIVE! GAMECITY community to show off the other social networking services offered with my GAMECITY.
Games/Merchandise/Events covered
Episode 8
[
]
May 15, 20:00
Channel β
Sori, Kan, Taishou, Yuuki, and Kuon were the hosts for this Neoromance themed episode. Information which couldn't been reported in the last episode was added into this program. Takumi introduced the news from a different screen. The Infini hosts remarked he sounded a bit nervous by himself, like he was in his own dimension. For the first time in the show, music from Neoromance games were played in the background. Angelique étoile and Harukanaru Toki no Naka de 2 music in particular was played during the special guest segment.
Sori's voice audition and voice actor training for Junya Niwa, his character in Hyakuman-nin no Kin'iro no Corda. Both he and G.Mee were instructed by Micheal Shitaanda (Ernest Satow). Sori explained that G.Mee tagged along because he wanted to learn for future projects, but he didn't elaborate. Shitaanda coached both actors to project their performances without using their bodies, which Sori said was a little difficult for him to grasp. A recorded message from Shitaanda to Sori and G.Mee was played. He replied they both have promise as actors and hoped they could put the same passion they have for acting into their vocal performances.
This week's guests are a part of the upcoming theatrical adaptation of Harukanaru Toki no Naka de 2. The founder of Z Dan and director of the play, Toshihiro Kitamura, will appear with Yoshihiko Narimatsu (Minamoto no Yoritada) and Kazumi Doi (Taira no Katsuzane). Kitamura showed off some of the pictures on his Twitter. Doi expressed his confidence as Katsuzane while Narimatsu expressed his enjoyment for the many hours of practice he does. Kitamura said that there will be multiple endings for this particular version of the play just to spice things up.
Narimatsu commented that he wanted to be a cooler Yoritada for fans than the one in the first performance. Kitamura reported that this might be the last time Ire Shiozaki (Akram) will work with him, so everyone is trying their hardest to give him a proper send off. Doi's message was dedicated to asking and encouraging fans to see the plays.
After the guests left, a run-through of the different Neoromance events was said to celebrate the newest upcoming one. Yuuki admitted that he was still in grade school when the first one was shown, which earned some nervous reactions from the other hosts. Kuon says his first time acting as a MC for the Neoromance event was the 2002 event at Osaka and he was glad when fans on Nico Nico Live commented that they were there. The Infini members humorously reminisced about what they did in their early years around the time the events began, each saying different stories. The Infini members express their hopes to be included into the upcoming event. Kuon said that fans who wanted Infini into the event should clap (8888) and cutely "boo" if they think it's too soon. He said the event coordinators might take a look at the results later to determine if they'll be in or not.
The first survey this time around asked viewers which Infini member seemed to have a different personality than their appearance implied. 53% voted for Yuuki. Yuuki was surprised since he thought someone like Sori or Taishou would win the voting. Infini members then shared their photos for the cherry blossoms this year. G.Mee's photo was included as well in which he posed before the statue of an unspecified historical figure. Another survey was held for Nico Nico Live viewers to see which photo they appreciated the most. Taishou won as the most favored with his funky tennis cosplay. He performed a silly victory pose but the hosts nitpicked that his head was cut off from the camera.
Viewers were asked one last time where they would have liked to have gone during Golden Week, Europe or Asia. Europe was the winner with a 80% voting percentage. The four hosts then performed a sweet message themed to an European themed vacation. They also performed a flower message line from Hyakuman-nin no Kin'iro no Corda. Infini members also added a plug for their live event series for next month.
Games/Merchandise/Events covered
Episode 9
[
]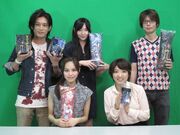 May 22, 20:00
Channel α

Pokémon Plus Nobunaga no Yabou themed episode with Pokémon Company's public relations representative, Yui Kawaguchi, appearing as a guest. G.Mee commented that he remembers first seeing photos of the game's booth when it was first online, stating that many people thought it was a joke. As a fan of the Nobunaga no Yabou series, he was expressed his sincere interest for the crossover. Although he recognized the Samurai Warriors character designs, he emphasized his preference for the franchise in the game's title.
Kawaguchi narrated the game's overall layout to pre-recorded gameplay footage. The footage takes place at the beginning of the game at with a female protagonist training against wild Pokémon. Motochika and Motonari are already in her party and were emphasized during the fighting segments. When the gameplay footage ended, Yukimura and Masamune's two costumes within the game were introduced. Viewers voted to see two more characters in their Bushou forms, who were Gracia and Ina. The online comic and Ranmaru's episode were briefly introduced as well. Merchandise for the game currently available in Japan's Pokémon Centers was brought for viewing. They are shown in full within this episode's after show photo and are given out as presents for e-mailing viewers.
Not to be outdone by Taishou and Yuuki's video report, G.Mee and Suzukawa had a pre-recorded video report of the Koei-Tecmo building at Kohoku-ku, Yokohama. Katsura explained the interview room, the cafeteria, the inspirational plaque, and the company's trophy room. He also showed his guests the pixel art Nobunaga. Katsura commented that they might show the Kanagawa building next, which received favorable support by viewers on Nico Nico Live.
Games/Merchandise/Events covered
Episode 10
[
]
May 29, 20:00
Channel β

Taishou, Yuuki, and Kuon appeared this episode. Neoromance music continued to be played in the background throughout the program, implying that it will continue to be a show trait for channel β. A completely new music track was sneaked into the show according to the after show commentary, but its source material was not specified to viewers. Unlike other broadcasts in the past, completely new announcements were introduced. They can be seen in the news coverage section.
This episode's theme is "character image songs". There is a total of 532 character image songs for the Neoromance characters alone (at the time of the show's broadcast). After a brief rundown of the various CDs released, recorded footage of one of Kenyu Horiuchi's performances as Oscar was played. The hosts asked viewers which song they liked the most from Oscar, and Yoru o Hajime yo proved to be one of the popular ones. Eiji Takemoto's performance for Ouchi Fukuchi's solo song was played as well. Yuuya Uchida's video recorded performance for Akihiko Kira was also up for viewing.
The Neoromance anniversary songs, Boku-tachi no Anniversary and promised rainbow, were briefly played as well over the hosts. They asked which character image their viewers preferred, and the Nico Nico live broadcast was filled with a flood of comments from fans naming their favorites. They even clapped to the second song as it played. Kuon announced that the Infini members are scheduled to dedicate two live performances songs for the upcoming festival before ending the segment.
Fan mail was read, one of which requested for Yang-san to appear on the show. Another asked the hosts what sports they enjoyed, which they answered live for viewers. A viewer survey was held for whether Yuuki or Taishou looked fitting for sports. Taishou "won" the vote so he performed a "happy victory rugby pose" for the audience, which was jokingly criticized by his fellow hosts.
Yuuki introduced a new corner for the show dedicated to announcing the birthdays of Neoromance voice actors or characters. The birthdays included every character/voice actor whose birthdays are at the end of May or in June. A few of those listed include Sazaki, Zephel, and Soichiro Hoshi. Congratulatory birthday wishes were said for them.
The theme of this fanservicey message reading is "If you're down, what would you like to hear to cheer you up: passionate encouragement or gentle words of praise?" The later won with a 57%. After Yuuki and Taishou said their quotes, Kuon bowed yet again from joining them. Several fans on Nico Nico Live chimed for him to join someday with "Not yet, Kuon-san?" becoming the fan added video tag for this episode. Unlike previous episodes, Kuon noticed the fan reaction and answered by politely apologizing to them. Infini members also added a plug for their live event series for next month.
Games/Merchandise/Events covered
Episode 11
[
]
June 5, 20:00
Channel α

Nobunaga no Yabou Online episode. Producer Tomohiro Watanabe appeared as a guest and he introduced the newest expansion of the game through live recorded footage. Watanabe didn't play the game himself, but he did narrate the highlights. It featured a player character running through the starting stage for Houoh no Shou, Okehazama. The new design of Hideyoshi was highlighted, much to G.Mee's delight. During the town section of the presentation, Watanabe explained that characters can interact with Nene and other figures as they make their city thrive. Players of the Shinku server were broadcast live on the show.
The theme for this year's anniversary event is Kyushu again. The event's name is a pun of the words "nine years" and Kyushu. Since players' levels and character abilities are equalized for the world event, anyone can play and enter. Niconico Live viewers were asked which side they would rather fight for: the Kyushu Sangokushi or the Dokuganryu no Yabou side; the Dokuganryu characters had the edge in popularity. Watanabe explained that fans could side with either side to once again experience whatever iteration of the characters they prefer. Accessories which could be won from the event were also shown.
As mentioned in the previous episode, G.Mee and Ayako Suzukawa attempted to perform a second video recorded tour of one of the other Koei-Tecmo buildings. However, since the stormy weather was blowing fiercely on the day of recording, this tour was canceled. Viewers joked that it was though the two hosts were on a date with another since the clip was so short. Katsura promised that they'll try a third "revenge" visit when the weather permits.
Presents for lucky emailing fans include a free copy of Nobunaga no Yabou Online Houoh no Shou and tickets for Gust Gala.
Games/Merchandise/Events covered
Episode 12
[
]
June 12, 20:00
Channel β

Sori, Kan, and Kuon appeared as hosts. After the early cast announcement for Neoromance ♥ Festa 13 was announced, pre-recorded event footage of the following voice actors was shown: Naozumi Takahashi (Inori, Isato, Hinoe, and Tooya in the Harukanaru Toki no Naka de series), Hiroki Takahashi (Rayne from Neo Angelique), Kentarō Itō, and Show Hayami. Footage for the voice actors included character messages, snippets of their live performances for character dramas, and character image songs. Julious's character image song montage included a character duet with Oscar (Kenyu Horiuchi). Kuon then asked which character image viewers favored on NicoNico Live for Takahasi and Ito, reminding viewers that over 530 songs were made just for Neoromance characters alone.
A recorded practice session by Taishou, Yuuki, and G.Mee for the event's theme song was shown. Kan recognized the song and sang a portion of the anniversary songs quickly for fans. Sori wasn't as familiar with them because he doesn't own a computer of his own so he hasn't heard them before. Kan promised that he would introduce Sori to them before the event.
The following corner featured answers to a fan mail question, which asked what the Infini members like to do on rainy days. Sori said he liked staying in and cooking while Kan said he likes to play games, especially games like the Musou series. Kan's response won the NicoNico Live survey with 88% so Kuon told him to do a cool victory pose. He decided to say his version of Wei Yan's officer defeated quote. Kuon said Kan probably lost people who didn't know the Shin Sangoku Musou series with his impression and didn't know what to think of it. Birthday shout outs for Neoromance characters and voice actors for this week in June followed the segment. Yuuki's birthday was also announced.
This week's fanservicey message is dedicated to accessories: "Which one would you prefer as a present: piercing/earrings or a pendant/necklace?" Pendent/necklace won overwhelmingly over the ear jewelery (86%) so Sori and Kan performed their present messages themed for it. Although the fan cries for Kuon's performance was mentioned by Infini members and seen in this week's comments on NicoNico Live, he dodged the bullet again. He instead presented a new event image for Tsuchiura in Hyakuman-nin no Kin'iro no Corda and moved on with the program.
Another fanmail was read, this one coming from a Shin Sangoku Musou fan. They first expressed their happiness for Xu Shu before saying that Kan looks like Guo Jia from Shin Sangoku Musou 6 Moushouden. In response Kan said he would like to cosplay as the character someday for fans. The next fanmail theme is: "Which flower would you like to receive as a present?" A plug for the upcoming L.A.F.U event was briefly introduced before the show's end.
Games/Merchandise/Events covered
Episode 13
[
]
June 19, 20:00
Channel α
Kuon has bugged Katsura to wear contacts for the show rather than his glasses, so he decided to give it a try. Katsura apologized in advance if he is unable to properly glance at the camera at the start of the show. After the news announcements were made, the director for Ayesha Atelier appeared on the show. Yoshito Okamura began with a brief rundown of the Atelier franchise before he briefly introduced Ayesha. The titular protagonist is looking for her missing younger sister who suddenly disappeared within a strange flash of light.
As he talked, he played the game to showcase the alchemy section. Materials were prepared for recipes and arranged within Ayesha's inventory. Like other Atelier titles, he emphasized the importance of experimentation. Even failures can be considered useful if the player plans for them to be, a change which he says is different than other titles. Exploration is similar to Meruru in that players move on a point and click map before exploring an area. Battles are turn-based, and the player can order their team to support one another's actions. Partner or team attacks can be planned and set up based on the enemy and ally turn order.
The game is fully voiced with a mix of 2D and 3D graphics during story events. Some rough character designs were shown, many of which Okamura remarked missed the mark for finalization. He described Ayesha as a completely new world in the Atelier franchise and felt that the protagonist's design had to be fantastic to fit it. The idea was tossed around quite a bit until the design team thought to instead be more normal with the protagonist's silhouette. A design which looks roughly similar to the current Ayesha didn't pop up until the 16th conceptualized take for her character.
Viewers on Niconico Live were asked to vote to see one other character's rough concept sketches. Wilbell voll Erslied seemed to be a fan favorite with 44%. Okamura explained that her design process was relatively short, even if she did undergo several revisions. Her witch hat and attire was decided pretty quickly; it was mainly her facial features and other aspects of her character which was toyed with before finalization. The blond hair was chosen in her initial designs to add a sense of mysticism to her character, but this was discarded quickly in her revisions.
Yousuke Hayashi's pre-recorded footage and commentary for E3 was shown. He was there to show off the DEAD OR ALIVE 5 booth briefly and said he hopes everyone looks forward to the title. He briefly said his thoughts for the NINJA GAIDEN WiiU title, hoping to find a new way of engaging players with a different control scheme. He ended his message by asking for continued love and support from fans.
Akihiro Suzuki was up next to briefly plug Shin Sangoku Musou 6 Empires and stated he couldn't really talk about it yet. He instead focused on the WiiU, a console which he personally thought was one of the highlights of the show. He looks forward to testing the console's limitations in the future, something he thinks he would like to do at least in his own time.
Hisashi Koinuma introduced the company's booth and the titles which were featured. He didn't comment on Fist of the North Star: Ken's Rage 2 and promises to reveal more information by this year's Tokyo Game Show. He placed his faith in the company featuring a wide variety of titles at Tokyo Game Show and next year's E3.
Games/Merchandise/Events covered
Episode 14
[
]
June 26, 20:00
Channel β
Taishou, Yuuki, and Kuon appearing as guests. Both the Infini members were asked to say what they do in their free time. Taishou said he plays games, takes photos, and several other hobbies. Yuuki said he celebrated his birthday. Recorded footage of the Infini members' practice sessions for Neoromance ♥ Festa 13 were shown. They were coached by Michael Shitaanda, who later stated his commentary for Taishou and Yuuki. He finds both of them honest and direct, but he hopes he can push them and bring out their hidden potential.
Merchandise from past Neoromance events were shown by the hosts before this week's cast announcements were made. There are going to be 18 voice actors participating. Prerecorded footage of the following voice actors' performances were shown: Shigeru Nakahara, Ryotaro Okiayu, and Nobuhiko Okamoto (Souji Okita in Harukanaru Toki no Naka de 5). Hosts asked viewers what was their favorite character image song per voice actor. The hosts read aloud the popular ones from the Nico Nico Live stream as they saw them.
The fanmail theme was "When would you like to receive flowers?". The first letter said they like it when their older brother gives them some. Another letter said her husband gives her a bouquet of flowers every year, but they forget about them later. They were touched by her husband's romanticism. Kuon then asked the Infini hosts when receiving flowers troubles them. Taishou said he would have trouble storing them when Yuuki said he feels like eating them. Taishou's response was positively received by viewers so Kuon told him to do a "happy and cool" victory pose. Kuon remarked his pose was too mixed-matched for him. Birthday announcements were read afterwards.
This week's theme for the fanservicey message was what type of written message they would have liked to have heard: a text message or a hand-written letter. The first option won with 84% and 25% for the second. Kuon avoided demands for his delivery by showing an event still from Hyakuman-nin no Kin'iro no Corda. It shows a younger Kanazawa and Kira when they were students at Seiso Academy.
Next episode's fanmail theme is "What type of snack would you like to eat for the summer?"
Games/Merchandise/Events covered
Episode 15
[
]
July 3, 20:00
Channel α

Musou Orochi 2: Special focus with Suzuki Akihiro appearing as a guest. Fans responded favorably to his appearance before he gave a brief rundown of the game. Pre-recorded gameplay footage of Abe no Seimei and Rachel was shown. Rachael's introduction event for the stage was included. A short video clip for the Battle Royale Mode was included. It plays like a mix of the Versus Mode in previous Musou Orochi titles with a tactical item system similar to Shin Sangoku Musou VS.
After the two videos, Suzuki was asked three questions from fans.

"Will this game have DLC?" and Suzuki said it will, but he asks fans to keep waiting for details.
"Does Abe no Seimei's fox have a name?", and Suzuki said, "Nope!" He did admit that this might change by the time the game is released though.
"We learned from the Twitter campaign that Abe no Seimei has special relations with Daji and Naoe Kanestugu, but who talks to Rachel?" Suzuki first explained that Seimei shares relations with Kanestugu as a fellow onmyouji and shares a fox affinity with Da Ji. With Rachel, it's a given that she will talk to Ryu Hayabusa. She also talks to Gyūki.
Take three of the Koei-Tecmo company building video tour by G.Mee and Suzukawa was shown. This was to make up for their previous failed attempt for the Kanagawa building. It was raining on this visit, so the video footage briefly showed the surroundings and the interior of the secondary building. G.Mee said he would like to see more of the buildings if he gets the chance, maybe even seeing the president's office someday. More video tours will be shown on Channel α.
G.Mee's historical feature corner begins this episode. He has previously rambled about how much he enjoys history, so the prospect of hosting his segment is nerve-wracking but exciting for him. The history professor to help his explanations, Asumi-san, was also introduced to the show. This week's historical figure is Ii Naotora. G.Mee explains her historical summary about why she became the successor while Asumi filled in some of the gaps which he missed. G.Mee even presented a simple-to-follow family tree to describe for viewers who may have been lost with the names he was rapidly describing. Information regarding her Sengoku Musou Chronicle 2nd counterpart was included at the end of his segment.
G.Mee admitted that he had no idea Naotora existed until her game announcement, since he primarily knew Naomasa or Naotaka. He found it interesting to research her and expand his historical knowledge. The other two hosts were impressed by how passionately he explained her history, as it made it seem like it was figure he always knew.
Games/Merchandise/Events covered
Episode 16
[
]
July 10, 20:00
Channel β
Sori, Kan, and Kuon are this week's hosts. Kuon introduced himself as the host who runs away from Neoromance messages, meaning he probably won't perform one in the show's run. This week's present even has a card written by him saying "I'm sorry", as a reference to him skipping the fanservice messages. When the Infini hosts were asked the type foods they would want to eat this summer; Sori said semi-ebi (type of slipper lobster) and Kan said meat buns since he has been playing Shin Sangoku Musou VS too often lately. As a brief update regarding the group's vocal training, Michael Shitaanda briefly stated his personal progress report in a pre-recorded message. He believes the men have improved vastly and looks forward to seeing how they will be for the event. Before the news announcements, Kuon reported to viewers that it was Takumi's birthday.
Merchandise for Neoromance ♥ Festa 13 became the show's next focus and Musou clear files were the first to be shown. Kan said his Guo Jia cosplay is still in the works and asks for continued patience from viewers. During their commentary for necklaces and jewelry, the show suddenly experienced audio and video problems. The recordings were cut off to fix them. To pass the time for viewers, pre-recorded footage of Kazuhiko Inoue and Kousuke Toriumi's previous stage performances were played.
The show returned after a ten minute wait with analogue audio. The microphones weren't used so natural noise from the room was captured. Video clips of Hideyuki Tanaka and Micheal Shitaanda's stage performances were shown. The hosts announced the merchandise after the clips, but due to time constraints they didn't show them. The event character image song CD for this festival is a Chinami and Fukuchi Ouchi themed one. The company gave a friendly cosplay challenge for fans, asking them to dress as their favorite characters attending the event.
Responding to this week's fanmail question, the first fan said they like eating spicy foods. The hosts had trouble saying their nickname, but the name was fixed thanks to Nico Nico Live comments. The next fan said they liked drinking fruit flavored soda. Both the infini hosts said they like pear flavor the best. Birthday announcements and congratulations for voice actors and Neoromance characters were read aloud afterwards. Sori then introduced viewers to Hyakuman-nin no Harukanaru Toki no Naka de and said the game will soon be in service.
The theme of the fanservicey message asks viewers what they would want to do if they were at the beach: play in the ocean or stay along the shoreline. 55% favored the dry option so the Infini hosts performed their messages. When the Infini hosts asked Kuon to do one, he confessed that he would die of humiliation trying to do one and apologized. Instead, he showed yet another event still from Hyakuman-nin no Kin'iro no Corda. It showed Tsukimori Len's rainy date event and Kuon summarized the situation for uninformed viewers.
Next episode's fanmail theme is, "What summer resort would you like to visit for your vacation?" This is the first YouTube archive episode to include the company's messages seen during the Nico Nico Live stream.
Games/Merchandise/Events covered
Episode 17
[
]
July 17, 20:00
Channel α

Shin Sangoku Musou Online Ryujin Ranbu was this week's main focus. Kazuhiro Echigoya, one of the directors for the online game, appeared as a guest. Pre-recorded footage of his topics played for viewers as he talked. After he gave a brief summary of the game, he talked about the Revolution 11 update mentioning Suzaku, the new My Home interface and player emoticons, and the new Snake Sword weapon. He additionally mentioned a few restorative items the player can use to refill their depleted Musou gauge. The first weapon and outfit update for fans is Lu Meng. He ended his time on the show with a formal hope that fans give the update a try.
The trailer and introduction for Shin Sangoku Musou Multi Raid 2 Hd Version followed soon after. Katsura's explanation is useful for fans who aren't familiar with the Multi Raid titles, as he explained the basic premise of Shi Huangdi's resurrection, fighting against giant beasts, and the characters awakening forms. All three hosts then readied their PSPs to play the PS3 HD version live for viewers. They played the Battle of Jiujiang, the seventh stage in the Supernatural Immortal's first chapter.
To tie into the Revolution 11 update, G.Mee's historical figure for the week was Lu Meng. Professor Asumi-san returned to the show to offer complementary corrections and support. G.Mee thinks fans give Lu Meng a bad reputation for defeating Guan Yu, but he hoped his overview of Lu Meng's history could help amend his image. He emphasized Lu Meng's rough and violent behavior in his youth and how he changed to be a refined and educated man in an incredibly short time frame. G.Mee then explained Lu Meng's part in Gan Ning and Ling Tong's relationship before talking about his death. The Sangokushi 12 and the Shin Sangoku Musou 6 versions of his characters were then shown and discussed for viewers to end the segment.
Games/Merchandise/Events covered