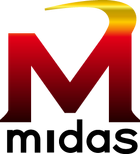 midas (ミダス) is a video game developing team and development brand working in Koei that was officially formed on March 13, 2017. Its formation was announced to the public on March 30, 2017. Kazumi Fujita, the representative president of CWS Brains, is the executive manager for this brand.
midas is mainly comprised of developers within the company who are in their twenties or thirties. Their goal is to represent current digital trends by specializing in smartphone app development. Their namesake is the golden touch of King Midas, which is better known as the Midas touch in Japan. It's a hopeful wish for the new wave of creators' work to "shine like gold" and be a huge success for them. The name was also given in the hopes that their work will touch consumers from all corners of life. According to Fujita's commentary, Hisashi Koinuma helped devise the name and Keiko Erikawa designed the logo. The golden stroke is mean to resemble a swipe across a touchscreen.
Fujita went on to say that this team will also aspire to create new IPs that they think best reflects current market demands. The older company executives hope that this brand will give their younger developers the needed experience, influence and means to lead the next generation of video games.
External Links
[
]